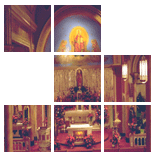 Enter Email:




Summary: Christ called himself the Good Shepherd. As his followers, we can count on his concern for each of us just as a dependable shepherd is for his sheep. He seeks us out, he knows us personally and calls us by name. He will never leave us or forsake us. He will walk with us "through the valley of the shadow of death." And never leave us alone in trouble and sorrow.

Summary: Jesus' image of "the good shepherd who lays down his life for the sheep" calls us to an ideal of sacrifice. While sacrifice is an idea currently out of fashion in our increasingly self-centered culture, it is an ideal we need to recover if we are to remain a healthy society.

Summary: Our faith is more than an abstract idea. It is founded on our experience of a real person, Jesus Christ.

Summary: The voices and directions to which we listen will determine where we will go. Which voices, or better, to whose voice do we choose to listen? There is no better indication of our ultimate destination.

Summary: God's love can shine through us when we are willing to act without thinking about ourselves.

Summary: Jesus said, "I know my own and my own know me ...." What does it mean to say that Jesus knows us? How are we able to know Jesus? When we know Jesus, we invite others into the fellowship of believers. We live with the assurance that Jesus will never leave us.

There are 6 sermons in your results.