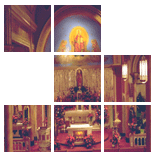 Enter Email:




Summary: Life on earth is marked by hungers that cannot be permanently satisfied. For the faithful, they will be satisfied in heaven. But when we seek Christ now, we experience at least the first installment of God's fullness even here on earth.

Summary: In the love of Christ, we are never alone.

Summary: John of Patmos warned his readers about the consequences of being unfaithful to the Lord. He also told them that faithfulness and the Christ-like life had greater rewards than they could ever imagine. Faithfulness always has great rewards.

Summary: If the world is to recognize the voice of Jesus as the shepherd, we must make it possible for them to trust and recognize us as members of the flock.

Summary: In this passage, worship and salvation are tied together. We are urged to adopt a form of worship that is also a way of life. We are shown that true worship in the Christian spirit is a way of living. Salvation becomes evident through this understanding of worship/way of life.

Summary: The voice of our Good Shepherd leads to eternal and abundant life.

Summary: There's no question that those who encounter Jesus in the Gospel of John are transformed, but the gospel also seems to show that Jesus, God's presence on Earth, is transformed as he comes to understand what it means to be human. Say what you like, but this is good news!

There are 7 sermons in your results.