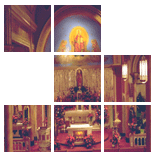 Enter Email:




Summary: We may miss one of God's very special moments because of weariness or some common distraction.

Summary: Do we really want to live in God's presence? Do we really want to see God's presence in the lives of people around us? If our answer is "yes," what are the things that are keeping us from doing so? These questions form the challenge presented in this sermon.

Summary: On the Mount of Transfiguration, Moses and Elijah spoke with Jesus about the "departure," the exodus that he would accomplish at Jerusalem. The word calls up the memory of the great saving event of the Old Testament, the Exodus from Egypt through the sea. It was really a creative event, in which God formed Israel as God's own people. The new Exodus that Jesus will bring about, enacted in the traditional observance of Lent and Easter, is an act of new creation.

Summary: We have to make the best decisions we can, but most of the time, certainty about the outcome -- and often even about the rightness of the chosen solution -- is not possible. But we can look at those few things about which we can be positive, and thank God that those are given for our benefit and to assure us that we are not alone in this world

Summary: We are always looking for that to which we can compare Jesus so that we can understand him better. The Transfiguration event tells us that Jesus Christ is beyond comparison.

Summary: Even though the Transfiguration manifested Jesus' power in an unmistakable way, the persistence of evil was seen soon after in the spirit that the disciples could not drive out of a boy. The church today recognizes the persistence of evil, even after the resurrection. We take heart that the ultimate victory belongs to God.

There are 6 sermons in your results.