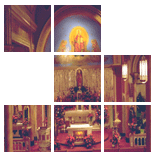 Enter Email:




Summary: Even though we may feel discouraged by the declining influence of the church and the ways contemporary society dismisses the church, we can take heart that even in its earliest days, outsiders made disparaging remarks about the church. Bystanders mistook the power of the Holy Spirit for inebriation. The church still claims the unexpected, unifying and empowering influence of the Holy Spirit for its life and mission.

Summary: In Hollywood versions of apocalyptic last days, all the earth is destroyed, including all that is beautiful and good. But in the prophetic vision of the last days, which Peter uses to describe the disciples' experience on Pentecost, the last days signal the beginning of God's activity among them. The inexplicable wind and fire that blows through the disciples also burns away the sadness of the past and gives them power and intelligibility for the future, God's future.

Summary: The Holy Spirit is God himself dealing with us in the most private part of our inner selves. The Spirit uses conviction, yearning, enlightenment, inspiration and assurance, among other means, to open us up to God.

Summary: On the first Day of Pentecost, everyone heard the good news of God in their own tongue. The church has tried, through Bible translation and missionaries, to continue this work. Now we face new challenges to make God's truth available to everyone, in his or her own tongue.

Summary: The Holy Spirit gives us the ability to share the Gospel despite our differences.

Summary: Our churches today are in a low point of declining membership, diminished interest, shrinking attendance, and we wonder with anxiety what we shall do. Acts 2 tells us that, in good time, the Spirit will move us. In the experience of those first disciples and apostles, we get a glimpse of how it happens.

Summary: Experiencing the Holy Spirit is a community event, not a moment of private spirituality. Communication requires community participation, both of speakers and listeners. Speakers need listeners if they are to be understood.

There are 7 sermons in your results.