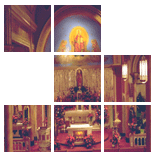 Enter Email:




Summary: The Sunday after Christmas doesn't mean that Christmas is past; it means that the wonder and power of Christmas have just begun.

Summary: Throughout the events of Christmas, God used many ordinary people to bring the Good News to the world. In the process, their lives were changed as well. Today we look at Mary and Joseph, Simeon and Anna. Their lives were quietly changed because of their faithfulness to God and to Jesus.

Summary: This passage is a witness to the importance of religion in the life of faith and in human life in general. Simeon and Anna are devoutly religious people who are also deeply spiritual. They show us that religious devotion and religious commitment can be a path to the kind of spirituality that recognizes the work of God in the most mundane human events.

Summary: Members of the Holy Family include Jesus, Mary and Joseph, and we rightly look at them as a model for Christian family life. But Luke tells us that there were additional people in the family, including Simeon and Anna.

There are 4 sermons in your results.