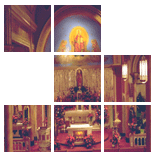 Enter Email:




Summary: Becoming an adult in our faith journeys means taking responsibility for the way of life Jesus modeled for us.

Summary: Families, whatever their structure, are the places where we are called to make holiness happen by becoming what God has made us to be. The tasks in bringing this about are not always easy, and in the process, we can be lost from each other. How we learn from these moments together can make our families what they are meant to be, holy families.

Summary: Paul says to "clothe yourselves with compassion, kindness, humility, meekness and patience." Those are garments you don't usually find wrapped up under your Christmas tree. So get dressed for the season, and for the living that lies ahead of you. Also, love came down at Christmas. It was the "true" Emperor's clothing, and everyone saw it. Now, you're wearing it, and you look very good in it!

Summary: Jesus demonstrates the rare gift of being truly present to God, a gift we can cultivate in ourselves.

Summary: With this scripture passage, we celebrate God's gift of a family given to us as an example. The example may surprise us, but with God's help, we may cease to ignore problems within our families and share our feelings in order to transform each other's hearts and minds.

Summary: The boy Jesus in the temple talking with elders reminds us that knowledge, thought and faith need to be linked. Reason should support our faith just as faith helps us use knowledge in godly ways.

There are 6 sermons in your results.