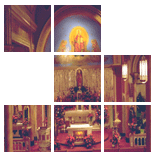 Enter Email:




Summary: Jesus tells his listeners that everybody needs to change something in his or her life. It's not only the openly flagrant sinners who need to repent, but also each one of us needs to turn away from sin, and turn towards God. The danger of delaying our response to God is that we become so enmeshed in our sins that by the time we try to escape, it's too late. Like the gardener in the parable of the fig tree, Jesus has requested more time for us.

Summary: Jesus uses the occasion of a question about a human tragedy to call his audience to a life of ongoing repentance as a means to faithful living. The end of such living is the bearing of fruit for God's mission. This text emphasizes the seriousness of God's call, but also testifies to God's patience in achieving his ends.

Summary: Tragedies happen every day to people of all walks of life. While the response to these is often to ask, "Why did God allow this to happen?" or simply, "Why, God?" Jesus used two tragedies from his day to direct attention to repentance and faith.

Summary: We don't have unlimited opportunities to respond to Jesus Christ. It's time to turn ourselves around and be faithful and fruitful.

Summary: Christianity offers no theological solution or simplistic answer to natural disasters and great calamities. Instead, we point to the cross of Christ and insist that there is no evil so dark that God cannot bring good out of it. We cannot make sense out of the capriciousness of nature and the randomness with which natural catastrophes strike. But we can experience the power of resurrection in this life, discovering that in Christ, even when we have lost everything, we have, in fact, not lost everything.

Summary: The good news is that the gardener in this parable told by Jesus who pleads to be given another year so the fig tree will produce fruit is Jesus. If we're the fig tree that doesn't produce fruit, then we've got Jesus on our side. We've got time on our side. And if we're called to act like Jesus, maybe we ought to give others a little more time for reconciliation. Either way, however, the time for us to get our act together is not unlimited. We'd better get started.

Summary:
God speaks to us — maybe even especially so — in the midst of disaster.

There are 7 sermons in your results.