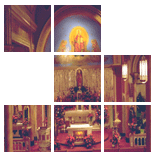 Enter Email:




Summary: Peter writes a word of encouragement to beleaguered followers of Christ. He exhorts them to persevere in faith by rooting themselves in the promises of God, by giving thanks for the patience of God and by living as the people whom God created them to be. In so doing, God's people not only persevere but also advance the cause of Christ in their day.

Summary: John the Baptist announces a new era of God's salvation and invites his audience to realign in light of its coming. John's preaching creates an expectation that the age of darkness is over.

Summary: When we feel ourselves in the wilderness, hungering and thirsting for God, God will be there for us. And when we are feeling strong and refreshed, God calls us to move out into the world to serve others in need, all in the name of Jesus Christ.

Summary: The highway image is useful for reminding us that we need to strengthen and improve our connection with God. For many of us, that connection already exists, but it's like a winding old highway that goes through every town along the way and pokes along behind a lot of hindering traffic in no passing zones. Our task is to improve, straighten and widen the existing spiritual road

Summary: The Christmas message without distortion is "The time is fulfilled, and the kingdom of God has come near; repent, and believe in the good news."

Summary: Prophets aren't so much people who predict the future as people who give us the hard truths about the world we live in. They are the ones who tell us how it is and help us repent and turn back to God so we can be more open to the transformation God brings to us through the incarnation.

Summary: Having lived through the 2020 pandemic, and as we continue through Advent, we are reminded through the ancient words of Isaiah that God is bigger and stronger than anything we may face in our lifetime. Add to that the knowledge of God's desire for us to be comforted, and we find hope in new and unexpected ways.

There are 7 sermons in your results.