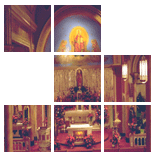 Enter Email:




Summary: Being the victim of another person's wrongdoing often raises in us the desire for revenge. In such cases, it's hard to accept that vengeance really does belong to God and not to us. But when we can leave it in God's hands, we are free to move on to a life of freedom and forgiveness.

Summary: The Parable of the Persistent Widow reminds us that through prayer, we are somehow able to get around, step over or in some way change the meaning of the walls that block us from receiving what we need.

Summary: Faith as Jesus taught it is not so much about how we view a dogma, a doctrine or religious tradition as much as it is about how much trust we bring to our prayer and how persistent we are in finding what God knows is best for us.

Summary: The Lord encourages us to be persistent in our prayers.

Summary: We need to persevere in prayer to God just as the widow in the parable persisted before the judge. Fortunately for us, God is not like the reluctant judge.

Summary: Just like the determined widow who went to the judge to receive justice, we are called to be persistent in prayer so that we can actively bring change in the world.

Summary: God is not at all like an unjust judge, and that is why God's answers to our prayers do not seem always readily at hand. Jesus bids us listen to the unjust judge. When we really look closely at this story, much is revealed about prayer and the nature of God's response.

Summary:
This is, to be sure, a parable about praying without ceasing. But it is also an exhortation to care, to show up, to simply be present and ready to receive what we claim we want.

There are 8 sermons in your results.