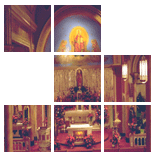 Enter Email:



Summary: Paul's lecture to the Corinthian church on food and fornication has ultimately to do with the relationship between body and spirit. It confronts a false understanding of spirit/body separation, and the argument that "as long as I'm not hurting anybody else, what I do with my body is only my business!" As such, it applies today as much as it did 2,000 years ago.

Summary: God sometimes uses our physical bodies as a means of getting our attention and entering our lives.

There are 2 sermons in your results.