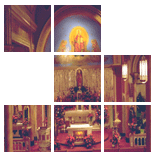 Enter Email:




Summary: People need to hear that there is help available to get through the trials and uncertainties of our time. We have a power within us that allows us to perform marvelous deeds. When we have "maxed out" our credit line of giving and caring, the Holy Spirit empowers us to go that second mile. If you have it in you, then let it out

Summary: The Day of Pentecost is God's announcement that the Good News is for everyone, delivered to all in our native tongues.

Summary: The experience of Pentecost shows the church receiving some things at its birth that it continues to need today. The Holy Spirit gives the church power, unity and eloquence. Despite its imperfections, the church can claim those things now as well.

Summary: Pentecost is the birthday of the church. A birth is not an end, but a beginning. There have been other "pentecosts" in the life of the church. Today we not only celebrate Pentecost. We await yet another Pentecost.

Summary: Somewhere in the chaos of the violent wind and the tongues of fire are the wonderlands where God is moving in our lives.

Summary: The dramatic descent of the Holy Spirit on Pentecost is one of the few biblical texts in which the Spirit is front and center. Usually the Spirit seems to work behind the scenes. But that work can be sudden and unexpected, bringing about genuinely new things. The Spirit is the creator of all life and, in the mission of Jesus and his church, works to bring about the fullness of life in communion with God.

Summary:
The church has already been planted. We need not wait for it to happen again. We have been given what we need. May we go forth and proclaim it again, and again, and ....

There are 7 sermons in your results.