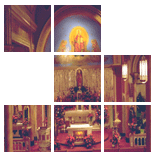 Enter Email:




Summary: Significant religious experiences are given to prepare us for God's mission in the world.

Summary: Our calling, as those who go out into the world in the name of Jesus Christ, is to become "slaves" to all — but not just slaves at everyone's beck and call. Rather it is to be slaves who will do whatever it takes to present the love of God in Jesus Christ to all who will receive it. In doing this, we will meet with opposition from those for whom this gospel has been veiled. Our call is to reach out to those who oppose it as well.

Summary: The Mount of Transfiguration is beyond both our comprehending and our imagining. But it's only a prelude to Easter, and it's as Easter people that we can grasp it.

Summary: The Transfiguration is a powerful experience in which Peter, James, and John encounter Jesus in all of his glory. This text, however, teaches an important lesson about religious "mountaintop" experiences: all experiences of God's grace are gifts to be shared with others.

Summary: Our mountaintop experiences are not places we need to preserve. Rather we must be willing to follow Jesus back down the mountain into the messiness of ministry with and connection to the people around us.

Summary: When we edit our lives to let others see only what can be easily and superficially judged as "successful," we invite others to become voyeurs into our lives in return for a fleeting feeling of superiority. Doing so limits us to one-dimensional relationships. Instead, Jesus invites us to a rich and deep community that can bear the joys and perils of life's journey.

Summary: The Transfiguration serves as a point in between this world and the world to come. In the Transfiguration, the law and the prophets become embodied in Elijah and Moses. God speaks. This scene gives us hope that God has not given up on this world.

There are 7 sermons in your results.