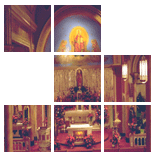 Enter Email:



Summary: Jesus upset the religious leaders of his day by granting forgiveness of sins to a paralyzed man. But Jesus has that power. For us, accepting God's forgiveness through Jesus means that our mistakes and wrongdoing will never be held against us or interfere in our relationship with Jesus. Forgiveness comes first, then healing.

Summary: God promises those who trust him forgiveness, peace, healing, blessing and fellowship with God himself. And Jesus is the confirmation of those promises.

Summary: Sometimes we are called to be stretcher-bearers for others. Other times, we need to allow others to lower us to the place where healing can occur.

Summary: When God forgives sins, he also forgets them. God never holds them against us again.

There are 4 sermons in your results.