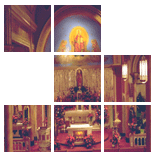 Enter Email:




Summary: Jesus is approaching the culmination of his mission on Earth. His disciples, dumbly following along, have no idea, really, what that mission is. Yet they follow. Through their missteps and stumbles, we learn what it is to place ourselves under the discipline of Jesus. In this particular episode, we learn Christ's truth about power.

Summary: James and John ask Jesus to "do whatever they ask of him." Jesus uses their asking for places of honor in the kingdom as an opportunity to talk about true discipleship, which is seen not in positions of glory, but in places of service. Indeed, for followers of Christ, it is a "race to the bottom" — not seeking to be recognized so much as to be in service for God.

Summary: In this reading, James and John call "shotgun," the seat of honor next to Jesus. When the other disciples hear of their power play, they are angry. Jesus responds to them all by challenging their understandings of status and inviting them to follow him away from their ideas of power and glory to a new idea of service and sacrifice. That's our challenge, too.

Summary: When James and John requested seats of honor in the kingdom of God, they had no idea that true greatness in that kingdom belonged to those who carried a cross and those who served others. That's a lesson we are still learning today.

Summary: James and John, in requesting seats at the right hand of Jesus, were enamored with power. They viewed the kingdom of God as a place where power would be wielded over people rather than for them. The answer Jesus gave them helps us to know how we should choose to use power today.

Summary: Sooner or later, God answers all prayers — but not every answer is in the affirmative. Sometimes the answer is "No." And sometimes that negative answer is truly what's best for us.

Summary: Jesus tells his disciples in this passage that he is giving his life as a ransom for many. But how many of us want nothing to do with being ransomed?

There are 7 sermons in your results.