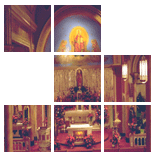 Enter Email:




Summary: The kingdom of God is as up to date as the current political scene, but it is a slow, generally unspectacular miracle, one in which we work with God.

Summary: The kingdom of God calls us all to live out our days with the faith of a farmer: to trust that if we sow the seed of the Gospel, God, and the very structures of God's world, will take care of the rest. It is your business and mine to sow the seed, and leave the rest to God.

Summary: Jesus used images, like that of a mustard seed sown in the ground, as parabolic illustrations of what God's heavenly realm is like. Although it seems absurd, at first, to describe heavenly truth with such mundane, earthy reality, it works -- because there is so much we do not understand even about a simple, everyday matter like the growth of a seed.

Summary: When we dare to plant a seed in faith, God will bless the growth in surprising and unexpected ways.

Summary: Although we cannot expect an end to evil in the world, not even through the ministry of the church, we do our ministry in hope, trusting that God will use it in the redemption of creation represented by the harvest in the parable of the growing seed.

There are 5 sermons in your results.