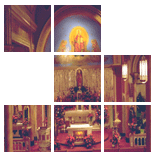 Enter Email:




Summary: Jesus' ministry encounters both open hostility and lack of understanding. But with these signs of opposition, there's also the group of people gathered around Jesus, the ones he calls his real family. It is not primarily the content of Jesus' teaching but simply the fact that Jesus is there that forms this community that would come to be the church.

Summary: Jesus' friends, family and foes misunderstood his identity and mission. He came to conquer Satan, sin and death. And he came to call people into a relationship with him that goes beyond bloodlines — a relationship with those who do the will of God.

Summary: Being a part of Jesus' family means doing the will of God. Living a life of faith provides evidence of the Holy Spirit living within us.

Summary: When the problems of the church's ministry in the world begin to sap our energy, we can draw on the power of the Holy Spirit from Pentecost, and the glory that awaits us in the Resurrection.

There are 4 sermons in your results.