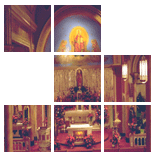 Enter Email:




Summary: Whether we are sleeping or awake, Christ will return like a thief in the night. No one knows when that will be, so we have to be prepared at all times. Paul's message to the Thessalonians is to stay sober, rest well at night and don't sleep in the light. Like the first-century church, we need to stay awake so that we don't miss seeing the Lord's work that surrounds us.

Summary: This tale told to those early disciples lands on us just as hard as it did on them. It forces us to ask ourselves, What kind of servants shall we be? What has God given us to use? How shall we use it? What accounting will we give the Master, when he returns?

Summary: We as a church need to see our "talents" not so much as the "gifts and graces" of individual members, but as our physical assets, and to ask ourselves if we are simply "burying" them, or using them in a way that gives physical expression to the kingdom that we know is coming.

Summary: In suggesting that humans might be voted off the earth on the basis of what we have done to it, Mark Twain puts the message of the story of the talents into graphic perspective. We have built many impressive earthly kingdoms. But it is the kingdom of God upon the earth that we have been commissioned to build. We have not only been commissioned. We have been empowered. The God who calls us to build has given us both blocks and the blueprint. If God has voted us in, then we must not by our actions or inaction vote ourselves out.

Summary: With the parable of the talents, Jesus makes a comparison to the kingdom of heaven. How the slaves used the talents entrusted to them speaks to 1) the nature of the kingdom of God; 2) their understanding of who the master is; and 3) their responsibility regarding the talents they had been given.

Summary: When we experience life as unfair, we may feel anger or resentment at God. If we act wisely and faithfully, we will work through our anger and find our gratitude to God. In that gratitude, we work for the church and continue its ministry, waiting for God's redemption of creation.

Summary: Not one of us is a "worthless slave" in the eyes of our Creator, who made us and called us "very good." God did not make us to set us against each other or order us by worth. God did not make us to throw us away. God loves us all and we should treat each other like siblings.

Summary:
Fear can prevent living in the present. Fear is often the result of anticipating that which we cannot control. Fear rarely changes outcomes, but it robs us of experiencing the range of possibilities of the present.

There are 8 sermons in your results.