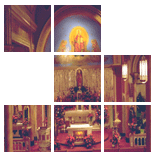 Enter Email:




Summary: When Peter asks, "Lord, to whom can we go?" he is articulating a bedrock affirmation of the Christian life: that we are radically dependent on Jesus. It is only when we truly accept the fact of our utter dependence on him that we are freed to do real evangelism.

Summary: If our Christian faith were put to a showdown, would we stay with it? What have we found in Jesus Christ that we couldn't find anywhere else?

Summary: The words of Jesus may shock us on occasion, but when some disciples turned away from Jesus because his words were too difficult, Simon Peter declared that no other has the words of life, or is the Messiah, the Holy One of God. He was right.

Summary: By his very nature, Jesus is a question that demands an answer.

Summary: Jesus offers us an address for God, a flesh-and-blood location. He is where God and people come together in communion, in the community of faith and in the words of the Bible.

Summary: Powerful communication comes from allowing the Spirit to speak through us, sharing a message of service, sacrifice and eternal life.

There are 6 sermons in your results.