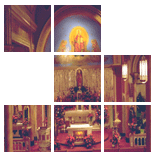 Enter Email:




Summary: Jesus advised his followers to "be dressed for action," and to "be like those waiting for their master to return." A lot of us are dressed for success, excess and recess but not for the appearance of Lord of the Manor. This passage calls us to tuck in our tunics and togas, and be ready for the Lord. Kingdom people are servants who stay alert, who put worrying aside, who know where their true treasure is, who stand at the ready knowing the Jesus may put in an appearance at any time, and who, are not only to put to work by Jesus, but also served by him.

Summary: These words of Jesus have to do with preparation for his coming. We are not so much being called to action as to readiness, making ready to welcome him; the real action will begin when he comes. How do we prepare ourselves to receive him?

Summary: While anticipating Jesus' return, we should neither become so preoccupied with his return that we neglect the day-to-day kingdom work nor become complacent about his return. The goal is this: While we are waiting, keep on serving.

Summary: Jesus wants us to loosen our grip on that which we fear losing so that we can lay up treasures in heaven which are utterly secure from loss. A "loose hold" on the things of this world only increases our sense of expectation and readiness for his return. Jesus tells us to be in a lifelong state of expectation for his return, able to function fruitfully and productively in the world, but ready to let it all go in a moment's notice in order to take on a new set of responsibilities when he returns.

Summary: Though the monsters of popular fiction are just fiction, there are frightening things in the real world. When Jesus tells his followers not to be afraid, he isn't denying that fact. But the threats that the world and our own sins present have to be seen in light of God's decision to make Jesus' followers his own people. That fact should change ideas about what is most important in life and motivate us to act as God's people.

Summary: This passage may sound like a call to abstemiousness, bitter and parsimonious "self-denial" in the bad sense of the word, but it is not. It is, above all, a promise of a joyous new life. We are being called to leave possessions behind so that we may "possess" a new life even greater than the familiar life we've come to know.

Summary: God's presence can break through our fear to offer strength for today.

Summary:
This is a message that challenges our fear, on a couple of levels. It challenges the fear that confronts us now — fear of plague, loss, disease and death. And it challenges our hidden fear of Christ's return like a thief in the night — and the loss that that will bring.

There are 8 sermons in your results.