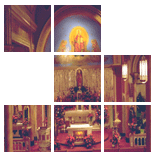 Enter Email:




Summary: Repentance is the foundation of a healthy relationship with God and others. When Jesus preached repentance, he wanted his hearers to change their minds about their sin, their mistakes, their regrets and even the direction of their lives. He wants us to do the same.

Summary: Jesus uses words and deeds to present to us his positive message about God's kingdom. He is intent on convincing us that the message about God's coming kingdom is the Good News.

Summary: In a world that often does not take the church seriously, God calls us to be the church. In responding to that call, we enable God to shine his light through us into the darkness of the world. Our response enables us to grow into spiritual maturity.

Summary: In one of his final prayers for us, Jesus prayed that his followers might be at one with each other. Unfortunately, Christian communities can often reflect the very antithesis of such a vision by the divisions that they maintain, sometimes even in the name of the very God who calls us to oneness. If we would learn more thoroughly about and come to believe more deeply in the love that God has for each of us, such divisions would begin to shrink.

Summary: God chooses to work through a body of people, a company of disciples. Even though each of us has come to Christ by his or her own independent choice, and even though each of us must always do private business with God, the church isn't a collection of rugged individualists. It's a company. It is God's own method, and it only works if we are willing to take our place in the body of Christ.

Summary: There's a saying in the National Football League — "next man up." It means you should always be ready to move up and replace someone injured on the field. Herod's arrest of John the Baptist does not extinguish the work of God. Jesus is the next one up and gets to work. And though he is irreplaceable, Jesus calls disciples to be the next ones up. Are you ready to be the next one up for whatever your congregation needs?

Summary: The immediate decision Peter and his brother Andrew made to follow Jesus sets a pattern that should encourage us to renew our own commitment daily to be Christ's followers so we can help transform the world to look more like it will when God's reign comes in full flower.

Summary:
General George S. Patton is famous, among other things, for his view on leadership. He preferred to lead, not follow, and seldom if ever needed to get out of the way. We follow Jesus, not Patton. Like the general, Jesus, too, had strong ideas about leadership. But unlike the general, Jesus ultimately got out of the way.

There are 8 sermons in your results.