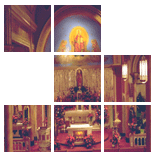 Enter Email:




Summary: We need regular times of retreat and spiritual renewal.

Summary: If we are friends of Christ, we need to introduce others to him.

Summary: We can look at Jesus in more ways than one, but the way we choose to look will have an impact on the depth of our faith and will determine how we can make the difference that he calls us to make. We might even say that the way we look at Jesus determines whether our Christianity is genuine.

Summary: Jesus resists the temptation to build a huge following using miracles and healings as the draw. He stays focused on his mission.

Summary: Mark tells the story of Christ's coming to a world out of joint and in need of a compassionate Savior.

Summary: In the Gospel of Mark, Jesus begins ministry right away, defining his identity by action. In the midst of all of Jesus' teachings and healings, and a battle with evil, Jesus takes time to pray. Prayer empowers us for our ministries.

Summary: Sabbath time is a different quality of time — and that's subversive!

There are 7 sermons in your results.