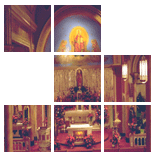 Enter Email:




Summary: In the healing of blind Bartimaeus, Jesus subverts notions of the rights and privileges of power by showing that true power is exercised in service to others, especially those who are desperate for what only God can do.

Summary: Bartimaeus' faith was affected by his physical challenges. He was blind and his faith was blinded. He did not have blind faith, but rather blinded faith. Blinded faith comes from need, from desperation, from pain and struggle and from injury … and Bartimaeus was both injured and desperate. His blinded faith frantically led Bartimaeus to find what Jesus had to give.

Summary: Bartimaeus was sidelined in life by his inability to see. But in encountering Jesus as the Savior came by, he gained his sight, and a new way of life. So can we.

Summary: Jesus's encounter with Bartimaeus demonstrates respect for Bartimaeus' innate humanity as a child of God. The response to Bartimaeus by others in the crowd seems to address only his perceived disability.

Summary: With whom do we identify in this story — the crowd, the disciples or Bartimaeus? If we're honest, we are most like the disciples, or perhaps like the crowd. We need to consider the blind, bellowing beggar as a role model.

Summary: Some of the experts in prayer are not theologians or poets. You may be one of them.

Summary: Like Bartimaeus, we have obstacles to face, but Jesus gives healing and mercy by which we can overcome even our blindness and fear.

There are 7 sermons in your results.