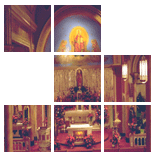 Enter Email:




Summary: Jesus calls us to assess carefully the cost of living as a disciple, for it is a life where self isn't the highest priority, where traditional bonds of allegiance are subservient to the Gospel and where possessions are not the defining feature of our existence.

Summary: Shortly before Jesus headed to Jerusalem, he had large crowds following him. But there would be trouble ahead. That is when he said, "Whoever does not carry the cross and follow me cannot be my disciple." He wanted serious followers. We cannot take lightly Christ and his Gospel.

Summary: The Bible offers friendly persuasion as one model for dealing with differences. Not every attempt to use friendly persuasion is successful, but it is almost always a good place — a Christian place — to begin.

Summary: Jesus challenges our postmodern world with an honest offer.

Summary: We have a natural tendency to change our minds and rethink our decisions. We want to retain every possibility and travel every path. But this characteristic seems at odds with Jesus' call to count the cost before following him. But we can learn that such looking back, while disconcerting, can be an opportunity to recommit to our commitments. Most of the time, especially in our commitments to God and to other people, we're better off to leave the bridges burned and stay on the side of the river we've chosen.

Summary: Although Jesus' call to sacrifice sounds too extreme, following Jesus enables us to grow a strong faith and engage in spiritual warfare. What Jesus does within us and the battles he enables us to fight bring the gratification of true discipleship.

Summary: Paul does not challenge the institution of slavery in the letter to Philemon. Instead Paul calls Philemon to see Onesimus as a brother in Christ. Paul trusted that this radical idea would bear fruit. Similarly, Paul does not give us material to write policy for immigration, but he calls us to see immigrants as brothers and sisters in Christ.

Summary:
Paul had a difficult letter to write to Philemon, and today that letter about an escaped slave can provoke debate in the United States, where slavery is automatically associated with race. And while slavery is in our past, it created injustices that persist. Christians can influence the way society deals with those injustices by being a community that really displays the love of Christ.

There are 8 sermons in your results.