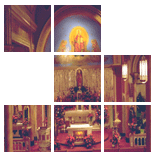 Enter Email:




Summary: "The Parable of the Laborers in the Vineyard" teaches us that God is generous. Thank God!

Summary: The grace of God is counter-intuitive until we see life as God intends us to.

Summary: When the Bible speaks about the return of Christ and the end of history, people often ask the question "When?" But Jesus' words about "the coming of the Son of Man" don't try to answer that question. Instead, they urge us to stay alert. We are to be at our posts, whether the end be near or distant.

Summary: Share and share alike is one expression of the generous grace of God. We should practice that inclusive generosity in the living of our days.

Summary: The parable of the generous vineyard owner highlights two biblical truths that often manifest themselves simultaneously: First, God is fair and will keep his promises to those who have devoted their entire lives to him. At the same time he is keeping this first promise, however, God may be gracious and generous to those who only devote part of their lives to him.

Summary: This parable Jesus told describes a vineyard owner who hired workers at different times of the day, but paid them all the same. Sometimes when God blesses people in ways that he has not blessed us, it's easy to feel a bit jealous. When this happens, we are admonished to put away childish attitudes, and to rejoice with those who rejoice. We should never lose sight of the many ways God has kept his promises and agreements with us.

There are 6 sermons in your results.