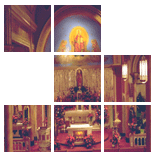 Enter Email:



Summary: When Isaiah spoke of predator and prey dwelling in peace together, it was a way to symbolize the kingdom of God. But animals also have some things to teach us about living in the world this side of the kingdom ― matters of interconnection, stewardship and the goal of a world at peace.

Summary: Isaiah offers a profound and poignant vision of hope to ground God's people to live as ambassadors of God's future abundance to the world. Isaiah's words inspire all, especially those who may presently be struggling, to find renewed hope and purpose in God.

There are 2 sermons in your results.