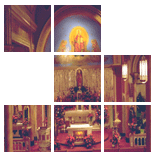 Enter Email:




Summary: The familiar camels of Christmas cards and manger scenes are mentioned in the First Lesson for Epiphany. Camels in reality can be tough animals to deal with. But human beings are also pretty tough animals for God to handle, always wandering away and resisting God's call, as God's dealings with both Israel and the Gentiles show. The fact that God does deal with us, that the fulfillment of God's promises depends on God and not on our co-operation, is why there is hope for Israel and the Gentiles and the whole creation

Summary: We don't want to have to live in darkness, and we long for light. The promise of the Isaiah text and the coming of the Magi point to the spreading of Israel's light to the whole world. Those who come to Christ are able to see the world as it really is, and are called to carry his light to others. Because he is the light of the world, we are to be lights to the world

Summary: God's light is shining — do we notice it? God is inviting us to discover new revelations — are we willing to be surprised by God?

Summary: The traditional nativity set has it all wrong when we squeeze three Magi in between the sheep and the shepherds. It gets worse when we call them kings. What we know is that months or even years after Jesus was born, at least two sorcerers come from the East to present gifts to the young king of the Jews. They personify the idolatrous notion that the gods and humanity are controlled by the stars, which reveal their secrets to the initiated. They also represent the boundless will of the incarnate Savior to save everyone, no matter how lost.

Summary: The apostle Paul's life sometimes reads as though it's been lifted from a contemporary cloak-and-dagger spy novel. In today's text he speaks of a mystery — or being a prisoner and of a commission and of being a part of a great plot to create a "one new humanity." What's going on? The good news is that what is going on is no longer a mystery!

There are 5 sermons in your results.