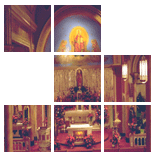 Enter Email:



Summary: Jesus told us that "Blessed are you who weep now, for you will laugh." For Christians, that is a great truth. We, like most, will indeed have times of sorrow and hurt. But because we believe in a God who wills the best for each of us, we can look beyond our tears to our times of happiness. God grants us joy in the midst of our pain. We know, without question, that we can never be separated from the love of God. So be of good cheer. We are winners after all.

Summary: When it comes right down to it, there are only two options for how to live: God's way and the other way. We should choose God's way.

Summary: In his list of blessings and woes, Jesus turns things, as one man said, "Inside Out [and] Upside Down." How do Jesus' blessings and woes apply to us today?

There are 3 sermons in your results.