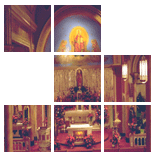 Enter Email:




Summary: What we see in this passage is the way in which Jesus goes about "catching people" to follow him and be his disciples. We need to find ourselves in this story and figure out, for ourselves and for our church, what our next step needs to be as we respond to Jesus' call.

Summary: Paul was compelled to pass on an important message: that Jesus died for our sins, was buried and on the third day was raised from the dead. Like a game of "hot potato," that message is passed on to us who in turn must pass it on to others. In the same way that Paul could take ownership of being an Apostle with a capital "A" by the grace of God, we are apostles with the same mission.

Summary: It is possible to focus on what appears to be the main event of a gospel story and miss the subtle but important message around the event. This is true as we read about the large number of fish the disciples caught with Jesus in their boat. There is so much more to this story. Trying the story on for ourselves by role playing the various people in the crowd and even Simon in his boat may help to bring some of these messages to the surface.

Summary: Jesus isn't looking for volunteers. He's looking for failures who trust him enough to get up and follow.

Summary: Jesus calls Simon Peter from fishing for fish to fishing for people. This remarkable exchange illuminates how there is hope for everyone, especially those who, hailing from the margins of society, see themselves as sinful and worthless. Jesus is looking for exactly them ... and he's still looking today.

There are 5 sermons in your results.