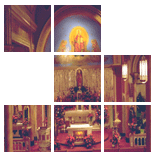 Enter Email:




Summary: Jesus Christ lived, died and was raised so that all who believe may live fully for God. Jesus' resurrection calls all people to move past fear and doubt to embrace the mission of extending God's offer of abundant life to the world.

Summary: Although the church has labeled Thomas the "doubter," he teaches us about Christian education and about worship. After his encounter with the risen Christ, he moves from doubt to true faith.

Summary: For two centuries, the church has shaken its finger at Thomas, calling him "Doubting Thomas." Despite all that Thomas accomplished as a disciple and later an apostle, that's what we remember most. But we needed Thomas to question the other disciples. We needed Thomas to make demands. We needed Thomas to doubt.

Summary: Holmes and Watson discuss a mystery with which the detective is faced, "The Case of the Three Locked Rooms." The corpse of an executed criminal appears to have been removed from his sealed tomb. His friends say that he appeared to them alive in a room that they had carefully locked. And whatever happened seems to have released them from the despair that his death brought about. The biggest mystery, Holmes concludes, is what this says about that man.

Summary: Jesus is the Son of God. Jesus has scars. Because of those scars, Jesus' disciples came to joy and belief. Because of those scars, Jesus knows about our scars and wants to bring healing, joy and belief to us.

Summary: This scripture invites us to think about the times and places we have seen the risen Christ.

Summary: When we cannot see the future clearly, we are challenged to make a leap of faith. But Jesus will support us when we believe his words and trust his instructions.

There are 7 sermons in your results.