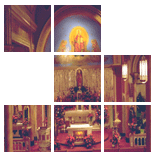 Enter Email:



Summary: Christ was baptized not because he was a sinner but to show his commitment to live righteously as God's Son and to identify with those who are in need of repentance and baptism. That, of course, includes us all.

Summary: John the Baptist proclaims that, in Jesus Christ, God has saved the best for last.

Summary: Baptism has both short-term and long-term benefits for believers, even today.

Summary: Jesus didn't explain why he felt he needed John to baptize him, but the act revealed who Jesus was and what his mission would be. Although Christians have shed blood over how to do and understand baptism, the important thing to remember is that baptism marks our individual entry into the communal mission of the church to spread Christ's good news.

There are 4 sermons in your results.