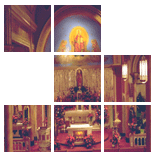 Enter Email:



Summary: Today is the feast of All Souls — not some souls but all souls. Believing that life does not end in death along with believing in love gives us an awesome power for ourselves and for those who have left this world.

Summary: On All Souls Day, we remember the great communion of saints that includes all souls, in heaven and earth. The Living Bread of Life came not to do his own will but the will of the Heavenly Father, and that will is that none one of us should be lost. It is also the Father's will that we share in this obedience.

There are 2 sermons in your results.