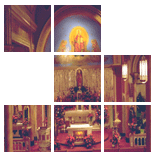 Enter Email:




Summary: John the Baptist, while carefully asserting his own identity — as well as stating who he was NOT — proclaimed the preparation needed for the world to receive the gift of God's Son.

Summary: As interesting as the answers to questions about where we were born or how we were raised might be, the reason we were born is of far more importance. One reason is for us to be an advertisement for the God in whose image we were created. We have a model for this in the person of John the Baptist.

Summary: John the Baptist came to "witness to the light." We have a similar task. This is a world invaded by far too much darkness. As Christ's followers, let us announce that the darkness of the world can be overcome through the heavenly light which comes from Christ.

Summary: The ancients witnessed to a great light because it was important to them. John the Baptist was also, in the words of this gospel, "a witness to the light." We stand in this great tradition, and witness to the light of Jesus.

Summary: Jesus comes to us as "one unknown." It is our joy to become acquainted with him.

Summary: Who are you in the eyes of the world? Perhaps that is the wrong question. More importantly, who are you in God's eyes? God recognizes our unique abilities that enable us to share the Good News of God's hope and new life.

Summary: The "I Am" statements in the Gospel of John define who Jesus is. In this passage John the Baptist, a witness to the light, defines himself with a series of "I Am Not" statements. These should lead us to consider who we are and who we are not, and help us become better witnesses to the light.

There are 7 sermons in your results.