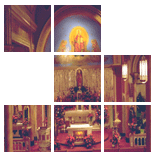 Enter Email:




Summary: Scientific exploration of the universe raises questions about the relevance of the biblical picture of the world, which may sometimes seem limited in scope. The Christ hymn of Colossians, with its emphasis on the significance of Christ for "all things," corrects that impression. It tells us that God intends to save the universe, not snatch us out of the universe. And it can remind us that the body of Christ is to be part of the reconciliation of all things to God, which takes place through the cross.

Summary: Jesus' death on the cross creates the opportunity for us to view our world, and the purpose of our lives in the fresh light of God's new reality. Jesus, the king, reigns from the cross.

Summary: European leaders sought worldly answers to the social dilemma after World War I, but Christianity concluded that only Christ had the answers society needed. When Jesus came he was not recognized, for his kingship was not of this world. People today tend to miss Christ and choose other kings to worship. We must choose Jesus Christ, King of the Universe, the only route to life eternal.

Summary: In proclaiming that his kingdom is not of this world, Christ the King, whose crown was made of thorns and whose throne became the cross from which he hung, challenges the world of which we are a part.

Summary: To be remembered by God means to receive eternal life.

Summary: Although we expect power from leaders, and desire power in our lives and even hope that God will exercise power for our problems, Jesus as "King" demonstrates power of personal control, forgiveness and entrance to paradise.

Summary: Because the church year ends with Jesus on the cross — his death and resurrection hanging out there in the future — we can find hope for the unresolved things in our lives.

Summary:
When it comes to the reign of Christ, we are all immigrants.

There are 8 sermons in your results.