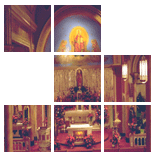 Enter Email:




Summary: We think we would like an uncontroversial, comforting Jesus. But Jesus doesn't fit that mold. Jesus the Savior, healer and teacher is also a Jesus who brings division and conflict as a result of change and discipleship. We must give up our efforts to keep Jesus on a shelf, and instead leave our comfort zone to join him in his work in the world.

Summary: Jesus is heading toward Jerusalem where he knows he will be arrested, humiliated and finally nailed to a cross. On his way, he talks with his followers about the hardships ahead for them as well. In case they are being carried along on a spiritual cloud, he wants them to face the harsh realities of being Christian. For you and me the specifics of those dangers are not the same as in Jesus' day. Few of us will have to sacrifice the love of our parents, brothers or sisters. For us, the challenge of following Jesus is different but just as real. That's why Jesus provides us with this boot camp conversation about discipleship.

Summary: What looks like an almost senseless rant on the part of Jesus (Who, after all, would want to be labeled anti-family today?) really speaks to the need for us to be a community of faith and support against the temptations of the world that surround us. What choices are you making between the world's priorities and those of Jesus?

Summary: It is true that Jesus said that he came to spread fire upon the earth. However, not all fire is destructive. If there is anything that Jesus was not, it was destructive. So we look beyond the destructive power of fire to reflect on the meaning of divine fire, the gift that it can be and how we are called to spread it.

Summary: Though Jesus words sound like he desires for families to be at odds with each other, in reality he is merely trying to help his followers understand the consequences of his truth.

Summary: Jesus, whose birth was surrounded by promises of peace, said he came to bring division even in families. This division is over whether Jesus is Lord or something else is Lord.

Summary: Jesus and his call for repentance and announcement of God's kingdom bring about a crisis: the need to decide for him or against him. Each person must make that decision, while recognizing that it is God who makes it possible for us to make the right decision.

Summary:
After a quick reading of this text, we might dismiss it as being an obvious mis-remembering of what Jesus actually said. Perhaps Luke has injected his own political perspective into a conversation which, many years after the fact, he can only dimly recall. However, a closer look at Jesus' manic outburst is telling - telling us that he said what he meant and meant what he said.

There are 8 sermons in your results.