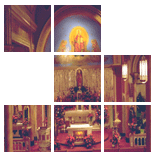 Enter Email:




Summary: Herod tells about his meeting with the prisoner Jesus after Pilate sent Jesus to him. In doing so, Herod inadvertently tells something about the meaning of believing in Jesus.

Summary: The ability to give voice to our spiritual experiences, both in corporate and private worship, is an integral part of the Christian faith.

Summary: Parents sometimes have to limit what they do for their children so that they can learn how do things for themselves, and so to function in the world. Both our belief that God is like a loving parent and our experience of the world suggest that God limits divine action in creation in a similar way. Philippians 2:5-11, which speaks of Christ "emptying" himself and taking the form of a slave, grounds that understanding of divine action in the fact that the character of God is revealed in the cross. Paul's exhortation to "have this mind among you" is a call for our lives to be conformed to that same pattern.

Summary: The spirit of Palm Sunday is also the spirit of Passion Sunday. But in it all, God's victory is assured. Even the stones declare it.

There are 4 sermons in your results.