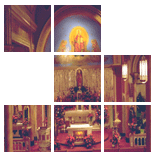 Enter Email:




Summary: The way to the good news of the kingdom of God is through a difficult door, repentance. Jesus said so

Summary: The beginning of each Christian life, however that takes place, is important, but that life is a continual response to God's call.

Summary: Jesus calls the first four disciples and they immediately give up everything they have to follow him. There is no process of building faith or learning discipleship. Instead, there is instant obedience. While we tend to stand in awe of the disciples' response, we must also be awed by Jesus' instant grace. Jesus works in our lives in the exact same way. He encounters us, accepts us immediately and summons us to follow him.

Summary: When we acknowledge our sins before God, he is ready to forgive us. We don't need any sin credits. We just need our repentance and God's forgiveness, which he is ready to give.

Summary: The alarm has gone off! The kingdom of God is near, in the sense of being close by and in the sense of being on the way. There may be a cost to count, but the kingdom of God trumps the kingdoms of this world, whether political, economic or entertainingly distracting. Turn around. Change your way of thinking. Follow Jesus.

Summary: Jesus invited his disciples to cast their nets widely and "catch" men and women to serve the kingdom of God. They fished with faith, trusting that their prayer and action would yield good results.

There are 6 sermons in your results.