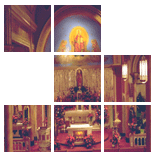 Enter Email:




Summary: In narrating the miracle at Cana, John intends us to learn far more than that Jesus had the ability to work miracles. He wanted us to know that the best means of salvation had come, and that that is the root of real joy.

Summary: The first sign of Jesus' kingdom, which occurred at the wedding in Cana of Galilee, is the surprise of joy.

Summary: At the wedding Jesus attended, the miracle of turning water to wine was possible because the servants obeyed Jesus. We can bring no greater gift to Jesus than our obedience. Whatever else we bring, however great it may be, if obedience is lacking, our gift is a poor one. That's because obedience is the working expression of faith.

Summary: In this story of Jesus' "coming out" at a wedding in a small town in Galilee, we are given a foreshadowing of what Jesus will do on behalf of God's people. Jesus' presence with us is a sign, pointing beyond itself to a new kind of purification. Our only response to this new kind of purification needs to be celebration — a party welcoming to our midst the very presence of God.

Summary: Through his actions, Jesus shows us how to live as disciples and share the bounty and grace of God.

Summary: Collaborators in a musical may end up working against each other instead of with each other when they fail to recognize and appreciate the gifts of their partners. The same is true in the life of the church. Each of us brings something special to the mix, but when we fail to recognize the Holy Spirit as the author of our life together, we may drive each other away.

Summary: The first sign Jesus performed in the Gospel of John is invisible. Only the servants whom no one is paying attention to really see what Jesus is about. What's this to you and me? Well, maybe God doesn't have to call our attention to every divine action in our lives, but rest assured, God is involved, God is among us and God cares not only that we find a way through troubles, but that we enjoy ourselves on occasion as well.

There are 7 sermons in your results.