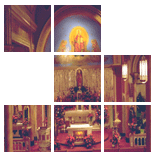 Enter Email:




Summary: Matthew, Mark and John all tell the story of Jesus walking on the water, but Matthew includes details the other two gospeleers do not. Those details help us to hear the message that rather than attempting to walk away from our problems, we are better to ask Christ to join us in our shaky crafts, trusting him to sail the rest of the journey with us, and to eventually land us safe on heaven's shore.

Summary: Jesus challenges us to believe in the impossible — and then to jump in to make it happen.

Summary: This story is not a newspaper account of "An Incident on the Sea of Galilee," but a symbolic tale that offers us a truth about what it is to be the church in a world of little faith that nevertheless longs for the presence of God.

Summary: Often, we act against what our best thinking tells and inner certainties tell us. Then, when things go wrong, we say, "I should have known better." We can begin to sink under the weight of such circumstances, but Jesus reaches out to us. We need to take his hand.

Summary: Going where no one has gone before, Jesus crosses the boundary of fear, helping us find hope in impossible situations and discover God at the brink of despair.

There are 5 sermons in your results.