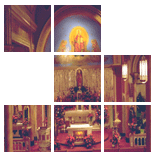 Enter Email:




Summary: God has planted a spiritual hunger within us to points us toward Christ. This holy restlessness is a blessing from God to bring us into Christ, to fullness of life and to life eternal.

Summary: God's plans for our individual lives are part of his cosmic plan, to unite all things in Christ. Jesus Christ is the elect one and we are chosen in him. Redemption, adoption of God's children, the promise of an inheritance and a call to right living are among the blessings given to those who are chosen. And since we are chosen in Christ, we are, like him, to realize our dependence on God and to be blessings for others

Summary: This passage goes into rich detail about how we are blessed, chosen, destined and adopted as God's children. We have been richly blessed, in more ways than we can count — in ways that boggle the imagination. What is the nature of our blessing? What are we to do with our blessing? The passage quickly moves beyond abstraction to carefully drawn-out particulars.

Summary: Paul opens Ephesians with the words of thanksgiving and blessing. These words point to a lofty picture of God's plan, Christ's work and our place in it -- so lofty that they seem remote and difficult to understand. Nonetheless, Paul provides a handle for understanding in his repeated naming of Christ and his call for us to praise Christ and the God who created us all.

Summary: Ephesians makes wonderful promises about God's forgiveness and plan to redeem all of creation. For now, we must wait for those promises to come to fulfillment. We live in a time of anticipation. The Holy Spirit serves as the "down payment" on God's promise to bring these expectations to fulfillment. We live and do our ministry drawing on the down payment of the Holy Spirit.

Summary: God has provided for the redemption and salvation of God's people through Jesus Christ. God offers us adoption into the family of God and the inheritance of eternal life. These are gifts of God's rich and glorious grace.

Summary: During the past century, scientific investigations have revealed the vast extent of our universe in both space and time, raising questions about the significance of our lives on this single planet. Our text from Ephesians is about the meaning of our lives and the whole creation from a different standpoint, that of faith in the resurrection of Jesus Christ. God's plan is for "all things" to be united in fellowship with Christ.

There are 7 sermons in your results.