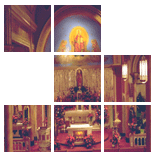 Enter Email:




Summary:
Keeping alert for the coming of Jesus doesn't mean doing nothing but waiting for the glory to begin. We don't know when the Master will return, but we should know we're expected to keep working hard for the kingdom of justice and mercy, seeking, whether we succeed or not, to set God's world in order. Serve others. Serve Christ.

Summary: If we live in an area where a disaster might be expected, it would be foolish not to take steps in advance. The words of Jesus about a general apocalypse for the world and a personal Day of the Lord for each one of us invite us to think through our "escape plan" in advance.

Summary: It is inevitable that we ask questions about the future. Far better, however, is to trust in God's goodness and live with integrity. The future will make itself known soon enough.

Summary: Although contemporary Christians rarely face outright persecution, they can confront the evil in society. If persecution caused early Christians to renounce their faith, apathy can sap the faith of today's Christians. God's grace enables us to endure so that our faith grows.

Summary: Worldwide, Christians are the most persecuted religious group, and it is getting worse. Even though we Christians in America seldom suffer persecution, we cannot read Scripture long before discovering that persecution is often the result of being a faithful witness to Jesus Christ. But whether we personally are persecuted or not, we need to stand, in every way that we can, with those who are.

Summary: Jesus' view of the coming disaster in Jerusalem becomes an occasion for our understanding of the role of suffering in our lives and in our world.

Summary: One apt phrase for the Advent season is "Be on the alert." This is a phrase that will keep us prepared for whatever God may have in mind.

Summary: Even though the church celebrates Advent as a time of hope and anticipation, we realize that the world does not change much. Luke teaches us that God will act in all creation, and the ministry of the church is to bear witness to God's coming redemption of the creation.

Summary: Advent is the season of waiting. We need to be ready for Jesus when he comes.

Summary: "Be on the alert." This is the word for the Advent season. It's a word that will keep us ready for whatever God may have in mind.

There are 10 sermons in your results.