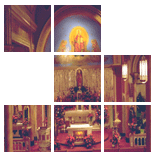 Enter Email:




Summary: Christians like those in Philippi knew that during one of the great competitions like the ancient Olympics, you had to keep your eye on the prize when things got toughest so you didn't fail at the last moment. The apostle Paul told them — and us — that we too need to keep our eyes on the prize of Christian faith, so that we're ready to endure when things are difficult.

Summary: Some of the great saints admitted to having spiritual dry periods and religious doubts. What they learned was that faith in God is not so much about feeling God as it is about living God. Our own spiritual dry periods can teach us the same lesson.

Summary: The Lord's words to his people, as found in today's passage from Isaiah, calls upon them to look to his past deeds so that they can have faith and confidence in him for the future. To do so takes humility, confidence and understanding. With these three divine gifts, we will not miss the "new thing" God is trying to accomplish in our time.

Summary: God made us to grow in many ways, but how do we measure spiritual growth? In Philippians 3, the Apostle Paul gives us three indicators of growth ... an increasing knowledge of Christ, greater confidence in the power of Christ and a deeper sense of purpose to our suffering.

Summary: Paul encourages us to eliminate anything that does not bring us closer to the life–giving presence of Christ.

Summary: God is always doing something new. The saving work of Jesus Christ is not just an event of the past but is newly present for us when the gospel is proclaimed.

Summary: Psalm 126 is a historical psalm, probably related to the return of the Israelites from the Babylonian exile. Having experienced the release from captivity, the people need God to restore them once again. What God did for them, he can do for us.

There are 7 sermons in your results.