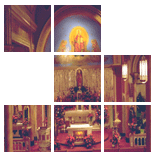 Enter Email:



Summary: Paul defends the power of the Gospel against human attempts to limit access to its life-changing message.

Summary: Knowledge of a person isn't the same kind of thing as knowing some facts. Personal knowledge requires that the person reveal him or herself to us, and that type of knowledge of God requires divine revelation. This is what Paul means when he says that his encounter with the risen Christ was "not of human origin." It was a personal revelation of what God has done to save us in Christ, a revelation that also comes to people today in the proclamation of Christ.

There are 2 sermons in your results.