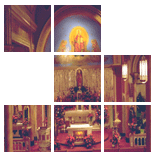 Enter Email:




Summary: Reason and what we can learn from the natural world can get us started on the road to Christ, but we need the church's book, the Bible, to get the rest of the way there.

Summary: The Magi's journey to Judea and encounter with Jesus invites us to find true life in Jesus. This is a life that is open to all.

Summary: The light came upon the Israelites who had suffered through captivity in Babylon. The light of Christ has also come upon the people living in other places of darkness today. This light shines brightly in Epiphany when we bask in the glory of the Christ child.

Summary: A good telescope brings distant things into focus. In somewhat the same way, the Bible brings Jesus into focus, helping us to learn what he has to say to us. In other words, the Bible enables us to have an epiphany.

Summary: Every house has its rules, whether it's for the way we play games, the way we serve burgers or the way we make each other family. In his letter to the Ephesians, the apostle talks about the "house rules" of God's grace, which make us, regardless of where we've come from or how we got here, "fellow heirs, members of the same body, and sharers in the promise in Christ Jesus ..."

Summary: The wise men teach us to look for fresh epiphanies and to act on them.

There are 6 sermons in your results.