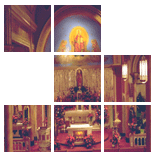 Enter Email:




Summary: Jesus prepares his disciples for his coming death by reminding them of the centrality of faithful obedience. He also promises that the Father will send the Holy Spirit to serve as a living teacher of the way of Jesus. The result for disciples, including us, is an emboldened resurrection faith.

Summary: The "other" Judas' question is our question as much as it was his. And Jesus' answer to him is our answer as well. How shall we incorporate Jesus' answer into our life as a church so that it becomes as real for us as it was for our spiritual ancestors, the disciples?

Summary: The peace of God is unlike anything the world has to offer. The peace that Jesus offers, through the counseling work of the Holy Spirit, is not an emotion but an under-girding support for our lives. It is not dependent on people or circumstances but comes from Jesus himself.

Summary: To prepare his disciples for his eventual departure, Jesus told them that three things would characterize their lives while he was gone. First, their motivation to obey God would naturally come out of an ever-increasing love for him. Second, their ability to understand and apply God's truth would be totally dependent on the guidance of the Holy Spirit. And finally, their hearts would be comforted by a sense of well-being that the world often promises, but can never deliver.

Summary: Jesus does not want his followers to be known by superficial emotions. Instead, he wants us to go deep, be authentic and put his love into action.

Summary: The words of John 1:14, "And the Word became flesh and lived among us," make great poetry, but Jesus lived these words at their grittiest level. Having experienced trauma, Jesus sends an Advocate who brings us peace and empowers us to advocate for and share that peace with others.

Summary: Jesus sends us out to do ministry in a world that can be anything from hostile to apathetic towards our work. Jesus has sent the Advocate or Holy Spirit to guide and teach us. Despite the problems we might face, Jesus offers us peace.

There are 7 sermons in your results.