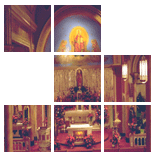 Enter Email:




Summary: Most people have a "love language" that makes them feel that other people genuinely care about them. God also has a love language; it's called obedience. Even our friendship with God is marked by this characteristic. When we understand what it means to obey God out of love (and not some morbid sense of duty or obligation), then our sense of joy, meaning and purpose in life becomes complete.

Summary: Jesus calls his disciples to embody an ethic of love for one another. Love is rooted in the love of the Father for the Son and the love of the Son for the disciples. This love serves as a witness to God's work in the world.

Summary: Jesus chooses all of us to be his friends. But only those who choose him back receive the blessings of his eternal friendship.

Summary: Christ followers are called to embrace and live out in community an ethic of love. Love is defined by the actions of Jesus; it is embodied by Jesus' followers; and it is the means by which God seeks to transform the world.

Summary: When Jesus calls us to show love, we must not mistake love for sentimentality. Jesus calls for a difficult love that flows from the love he showed us. Love enables us to experience joy even in the midst of the evil of the world.

Summary: Jesus had already given his disciples the "new commandment" to "love one another." In the passage for today, Jesus expands on that commandment in the context of the vine and branches.

Summary: Jesus wants us to be completely flooded and fulfilled with joy. Such filling happens when we practice self-giving love.

There are 7 sermons in your results.