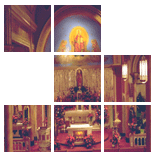 Enter Email:




Summary: John the Baptist proclaims a radical demand for repentance, but his directions for people's lives after their baptisms are quite moderate. They are to share what they have with those in need and to do their jobs honestly. The coming of the Messiah to whom John points will not abolish God's world or our work in it. We are called to preserve and protect it as God brings his reign to fulfillment through the work of Christ.

Summary: Five questions help us when shopping to also glorify God.

Summary: The Jews have always awaited the coming of the Messiah. Christians believe that Jesus was the Christ. What do Christians await? We expect to see God at work in the world. We believe the kingdom of God will finally be a reality. We believe God's ultimate victory over evil is certain.

Summary: In this passage from the Jewish scriptures, we are offered an "already" and a "not-yet." We are given the promise that God already stands among us, even in the midst of the uncertainties and tragedies of our life here and now. And we are offered a promise that God's will shall be established perfectly in a yet-to-be realized future, when the uncertainties of today will be resolved in victory.

Summary: Seek the great Christmas, not the little Christmas.

Summary: Seeking joy in the Lord is different than pursuing happiness in our lives. What is the difference between happiness and joy? How do we find joy amid despair?

Summary: It's difficult to be cheerful when there's so much left to do this holiday season, especially when we're trying to make up for all we missed last year due to the pandemic. The last thing we need is someone telling us not to worry — unless it's the apostle Paul, writing to Philippi from death row in Rome — whose message of joy should serve us as well now as it did 2,000 years ago! Don't worry. Rejoice!

There are 7 sermons in your results.