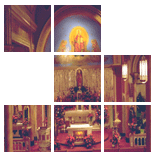 Enter Email:




Summary: There are at least three understandings of "keeping awake," as Jesus and his disciples would have understood it — waiting, watching and tending the fire. All three apply to Advent and have implications for us today.

Summary: The First Sunday of Advent is a day for taking stock of the pain of the world, for recognizing that the world is still far from the reign of God. On this day, we begin again our long vigil for the return of Christ. But in the midst of this wait, the apostle Paul offers words of grace and peace that place our suffering within the context of God.

Summary: As we begin the season that our culture thinks of as gift-giving time, let's not neglect the gifts God has brought us in Jesus the Christ. We don't want to leave these gifts unopened.

Summary: By focusing our attention on feelings evoked by the hope of the second coming of Jesus, we are able to understand the longings felt by those who waited for the first Advent. Discovering these feelings will help us celebrate the Advent season in a deeper, and more profound way.

Summary: For something as cosmic as the return of Jesus, you'd better be alert — but keep in mind that the biblical meaning of watchfulness is working for the kingdom. So remain watchful. Besides, if we're not looking, we might even miss something as obvious as Christmas.

Summary: In this time between Jesus' departure and the end, we are to be watchful, for both danger and the opportunity to do good, and to serve God and neighbor in our daily work.

Summary: Jesus concludes his discourse to his disciples about the future with a brief parable and the lessons they are to draw from it. We are to be alert, knowing what is going on in the world and thinking God is there. We know something that those first disciples didn't realize at the time: that God's work of new creation has already begun with the cross and resurrection of Christ. Knowing that, we are to watch for the signs that God is completing that work.

There are 7 sermons in your results.