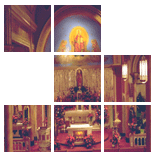 Enter Email:




Summary: Saint Peter and Saint Paul might be considered the original odd couple. They came from different backgrounds and were called into apostleship under very different circumstances. They even seem to have been at odds at one point. But in the things that mattered — their martyrdoms, their confirmation of a new identity and, most of all, their transcending of great errors through the forgiving love of God — they should be linked together in our minds as examples for our lives.

Summary: A crowd gathered after a man lame from birth was healed by Peter and John. It gave them an opportunity to preach. Peter deflected attention from the apostles themselves and called attention to what God had done through Jesus. God had glorified him through his cross and resurrection and brought about the possibility of new life in communion with God. The physical healing of the lame man, while it was not the thing that Peter emphasized, shows that the new life God intends is for the whole person.

There are 2 sermons in your results.