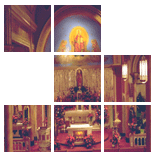 Enter Email:




Summary: Jesus' parable of the Rich Man and Lazarus tells us how to treat other people (and not about details of the afterlife). In doing so, it gets at the question of what it means to be human. Beyond philosophical or scientific definitions of humanity, we are called to be a community of mutual support and care. The most fundamental reason for this is the Incarnation of the Son of God.

Summary: We should help the "Lazaruses" at our gate.

Summary: This parable is exactly that: a parable; it is not live video footage of what happens to us after we die. This, however, does not let us off the hook. The parable's teaching is clear: Hardness of heart in the face of relievable human misery utterly and completely separates us from God and from the kingdom of heaven.

Summary: Jesus' parable of the rich man and Lazarus indicts us when we who are part of the "upstairs" crowd ignore the needs of the "downstairs" people who are around us.

Summary: The parable of the rich man and Lazarus speaks strongly to us who have plenty. The sin of the rich man was not that he did not solve all Lazarus' problems, but that he did nothing at all. Likewise, we cannot solve poverty. But we can do something, and for the good of our souls, we must.

Summary: Saying and even doing things that themselves are right can be a way to evade the responsibility of saying and doing the right thing about the situation you're faced with. Jesus' parable of the rich man and Lazarus is primarily a warning to those like the rich man, but its conclusion in the afterlife is a reminder that final condemnation and salvation are both in the hands of a loving God.

Summary: The voice of our good shepherd leads to eternal and abundant life.

Summary:
We accept faith, or grow our faith, not by dramatic events or fear of punishment, but by responding in our everyday lives through study, devotion and care for others, to the revelation that God has given us.

There are 8 sermons in your results.