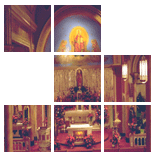 Enter Email:




Summary: The story of a healing in a synagogue calls us to try to see those who are bend double by circumstances or prejudice or the blindness of society and, insofar as possible, put ourselves in their shoes. Once we have done that, we will be in a good position to see how we can go about loving those particular neighbors.

Summary: Jesus healed a woman on the Sabbath day. He was thoroughly chastised by the ruler of the synagogue, who said that one should not do such a deed on the Sabbath. It was "working" on a holy day. But Jesus believed that the Sabbath was meant to be a blessing for people, a time for showing love to God and to others. A time of rest and renewal. Therefore, he was certain that love should always win over legalisms. We should take the same attitude. We should also see our Sabbaths as a blessing, never as a chastisement.

Summary: Jesus desires that we live lives of health, wholeness and freedom.

Summary: When we come to comprehend the love of God, we will understand that our God is a consuming fire.

Summary: Jesus met a woman afflicted for 18 years with crippling pain and disfigurement. In one instant, he healed her and set her free from both the pain and the debilitating state of her body and soul. Not everyone was pleased. Jesus broke the "rules" but changed lives forever. The good news is that Jesus still heals those who are broken and in pain.

Summary: Although we celebrate Jesus' compassion toward the disabled woman in the text and rejoice in her healing, we should take care that we do not use our freedom from rigid Sabbath observance to neglect setting aside time for God.

Summary: Obedience to God's law is about more than avoiding certain behaviors; it's about seeking wholeness and transformation.

Summary:
When Jesus notices a woman who had been bent over for 18 years — an especially significant number in Hebrew — he heals her, to the distress of a synagogue leader but to the joy of the crowd. By doing this, Jesus had broken no Sabbath rules. Rather, he did what all of us should do when we can — restore life when it's been compromised.

There are 8 sermons in your results.