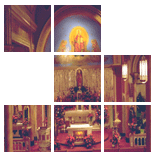 Enter Email:




Summary: There is something of Jesus himself present in Communion.

Summary: Jesus' description of himself as "the living bread that came down from heaven" is a potent symbol of the new life and salvation he brings.

Summary: The Bible speaks of four dimensions of time: past, present, future and eternity. But it is in the present where time most closely touches eternity.

Summary: Try as we will, we cannot outsmart death. Only by eating spiritual bread do we have eternal life. We have to eat to live.

Summary: Jesus tells us he is the bread of life that came down from heaven, a sign of God's presence with us. This bread and sign are to be shared with everyone.

Summary: Jesus offers the bread of life to meet our greatest need, but we are too often focused on lesser things — physical blessings versus deeper, spiritual ones.

Summary: Ephesians urges us to live wisely. Wisdom is available to us in many surprising places. Often, the best wisdom comes from gaining a new perspective and shifting paradigms.

There are 7 sermons in your results.