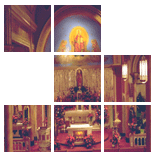 Enter Email:




Summary: It would seem that faith should be easier when our lives are untroubled, but sometimes we actually take our faith for granted during good times. It's wise to be as attentive to our faith in good times as in bad, because the easier periods let us build the faith resources we need for when difficulties come. Periods of personal blessings do give us a hint of life as God intends it, and in such times, we can also gain strength to help those who are having it rough. Further, we need to tend our faith in good times because contentment often breeds discontent. The final lesson is that our changing circumstances are no measure of our need for God, nor of his love for us.

Summary: Jesus warned against calling anyone a fool, so when he used the word, he was defining it. We had better listen to his definition.

Summary: By working hard, saving and investing money we can gain material wealth. Such wealth is never totally secure. The rich farmer whose abundant crops compelled him to build bigger barns thought he was setting himself up for a nice retirement. God had another idea, and the farmer was taken into eternity. There is a wealth, however, he could have taken with him into eternity. The main goal, our Lord instructed, is to "become rich toward God."

Summary: How we handle great blessings and great opportunities can be just as revealing about our faith as how we handle great pains and great troubles.

Summary: The parable of the rich fool is an easy-to-understand but hard-to-live story. Perhaps we cannot incorporate its lesson about true treasure into our lives because, like the rich man, we cannot see or recognize the miracles of God's abundance, of God's gift of community and of God's incessant call that are offered to the man — and to us.

Summary: The content of your prayers reveals the focus of your life.

Summary: When empty-nesters build bigger homes to hold their possessions, they run the risk of acting like rich fools. Better to be rich toward God.

Summary:
The parable of the rich fool leaves room to think about the good he could have done with his abundance and the positive ripple effect it could have had. This has implications for our churches.

There are 8 sermons in your results.