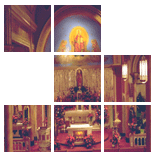 Enter Email:




Summary: To be effective in ministering to others, we must experience the type of rest that truly re-energizes. If we try to do the work of God with an empty tank, we're sure to end up feeling just as empty when we're done. Properly re-energized, however, we can minister to the most difficult and needy people whom God may send our way.

Summary: The world is crammed with people who are like lost sheep. They are those without meaning, hope, living confused and often tortured lives. But Christ is indeed the Good Shepherd. Not only does he know the dilemmas many face, but he also has compassion for all and offers his leadership and support until all of his "sheep" are safely home.

Summary: In our busy lives, irritability is often our primary response to frustrations. When trivialities are what get our goat, that may be a signal that we need to rearrange our schedules or establish different priorities and immerse our daily lives in prayer. It's also an alert to keep our eyes on Jesus and learn from him.

Summary: Paul announces the removal of barriers between Jews and Gentiles for the advancement of the Gospel. Jesus is the means of creating a new humanity by drawing together former insiders and outsiders into a new movement centered on Jesus' life, death and resurrection. This text invites us to remove barriers of our own making that hinder the Gospel in our day.

Summary: There's always a story behind miracles. You and I may be part of the story.

Summary: Although the prevailing forces of our culture conspire to make us strangers to one another, through our relationship with Jesus Christ we often find that strangers have become friends.

Summary: Compassion is a way of seeing, of feeling, of seeing again, and then of doing.

There are 7 sermons in your results.